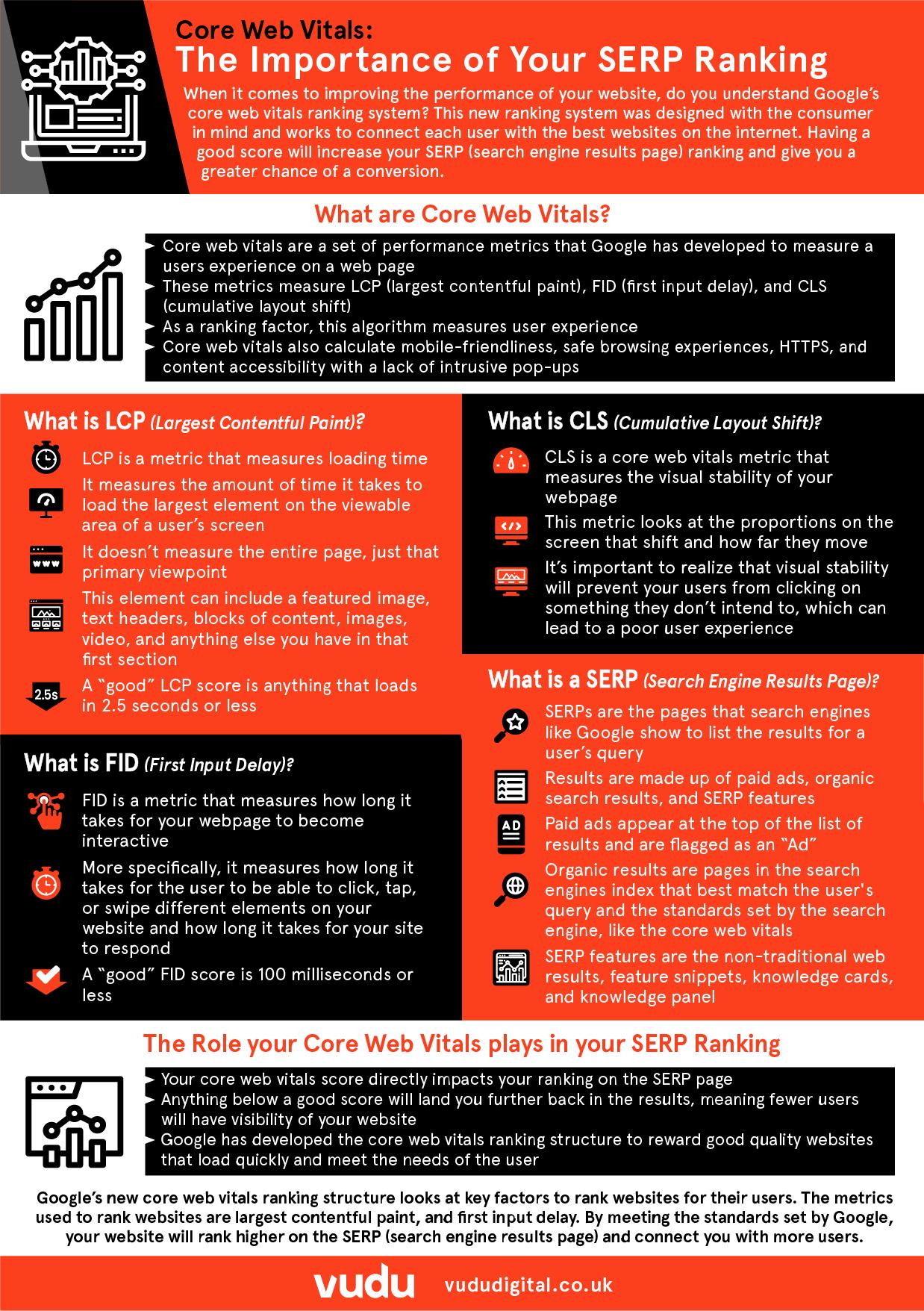 When it comes to improving the performance of your website, do you understand Google's core web vitals ranking system? This new ranking system was designed with the consumer in mind and works to connect each user with the best websites on the internet. Having a good score will increase your SERP (search engine results page) ranking and give you a greater chance of a conversion.
What are Core Web Vitals?
Core web vitals are a set of performance metrics that Google has developed to measure a users experience on a web page. These metrics measure LCP (largest contentful paint), FID (first input delay), and CLS (cumulative layout shift). As a ranking factor, this algorithm measures user experience. Core web vitals also calculate mobile-friendliness, safe browsing experiences, HTTPS, and content accessibility with a lack of intrusive pop-ups.
What is LCP (Largest Contentful Paint)?
LCP is a metric that measures loading time. It measures the amount of time it takes to load the largest element on the viewable area of a user's screen. It doesn't measure the entire page, just that primary viewpoint. This element can include a featured image, text headers, blocks of content, images, video, and anything else you have in that first section. A "good" LCP score is anything that loads in 2.5 seconds or less.
What is FID (First Input Delay)?
FID is a metric that measures how long it takes for your webpage to become interactive. More specifically, it measures how long it takes for the user to be able to click, tap, or swipe different elements on your website and how long it takes for your site to respond. A "good" FID score is 100 milliseconds or less.
What is CLS (Cumulative Layout Shift)?
CLS is a core web vitals metric that measures the visual stability of your webpage. This metric looks at the proportions on the screen that shift and how far they move. It's important to realize that visual stability will prevent your users from clicking on something they don't intend to, which can lead to a poor user experience.
What is a SERP (Search Engine Results Page)?
SERPs are the pages that search engines like Google show to list the results for a user's query. Results are made up of paid ads, organic search results, and SERP features. Paid ads appear at the top of the list of results and are flagged as an "Ad". Organic results are pages in the search engines index that best match the user's query and the standards set by the search engine, like the core web vitals. SERP features are the non-traditional web results, feature snippets, knowledge cards, and knowledge panel.
The Role Your Core Web Vitals Plays in Your SERP Ranking
Your core web vitals score directly impacts your ranking on the SERP page. Anything below a good score will land you further back in the results, meaning fewer users will have visibility of your website. Google has developed the core web vitals ranking structure to reward good quality websites that load quickly and meet the needs of the user.
Google's new core web vitals ranking structure looks at key factors to rank websites for their users. The metrics used to rank websites are largest contentful paint, first input delay, and first input delay. By meeting the standards set by Google, your website will rank higher on the SERP (search engine results page) and connect you with more users.